Everything you need to know about the Pinknic Festival
The Pinknic Festival is a large event that celebrates rosé wine.
History of Rosé Wine
It is hard to date rosé wine because many red wines are the color of rosé wine today. It was considered civilized to dilute red wine in Greece because no one wanted to become a drunken brute. It wasn't until the 16th century that Phocaeans brought grapevines to Massalia to Southern France that pink rosé became widely known.
Provence is considered the birthplace of rosé wine. In the 1970s, California's white wines were in high demand, so wine producers had to make white wine with red grapes from the Saignee method. This method reduced some red but left a light pink color, ultimately becoming "blush wine."
Sutter Home was the first to create the blush wine but received negative feedback saying it was too sweet. Rosé is said to be a wine for amateurs. But in 2000, Americans noticed the difference when hotels and resorts began importing the natural French drink.
The Hampton's rosé shortage proved that Americans loved rosé, which created the trend of infatuation today. One major event held in viticulture is called Pinknic. It is a large festival that celebrates Rosé wine and summer.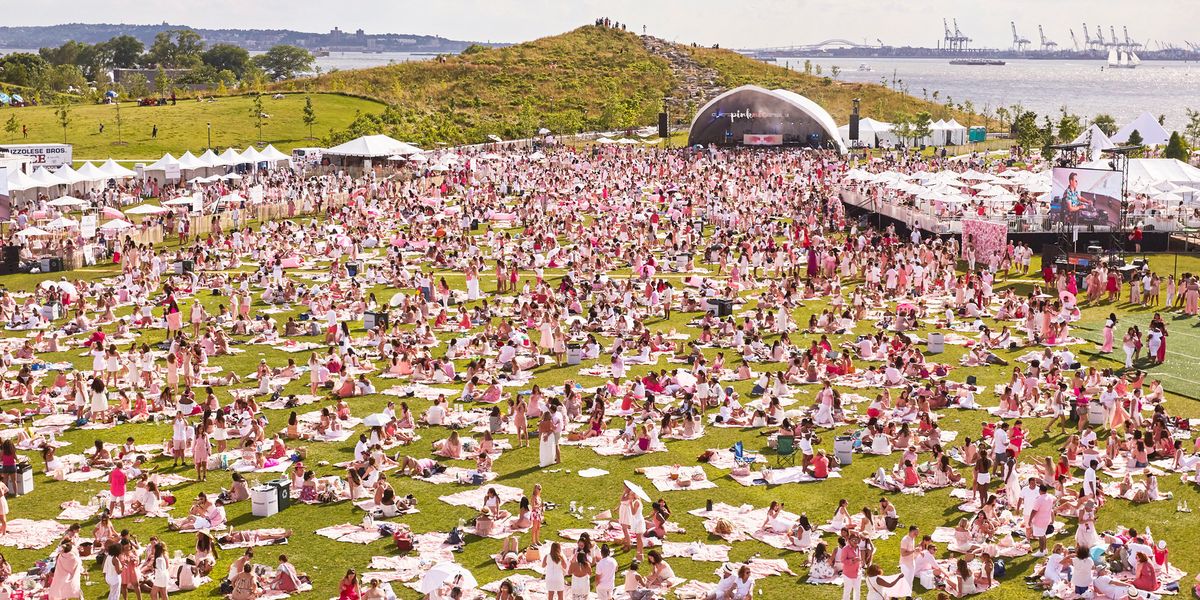 About the event
Attendees dress in pink and white and enjoy wine, food, and live music. It first launched in New York in 2016. Approximately 9,000 people took a short ferry out to Governor's Island. When they got there, they received a welcoming basket containing pink and white themed items such as a blanket and reusable wine glass, an entrée, and two appetizers, snacks, and drinks when they got there—baskets sold at $65 for two people.
Most people brought their baskets from home, which became an accessory themselves. Pierrick Bouquet had a similar festival on a yacht. Pierrick and Derek van Bakergem created this event to focus more on the lifestyle and less on the variety of rose wine.
Bouquet said, "We wanted to create a picnic-type festival that would be great to enjoy rosé at, and we wanted to add a music component to it, so we created a music festival on this. It's a nice, lovely background and entertainment for the guests."
Also read: History of Wine and Fashion
He also said, "The goal was also to create a new and unique experience where music and wine blend." People drank different selections during the festival, such as Chateau d'Esclans, Moet & Chandon, and Chandon. They were sold by the bottle starting at thirty dollars each. Champagne was also sold. Chefs were hired for the festival, such as Chris Santos. If drinking, live entertainment, and food weren't enough, you could snag a spot at the massage tent if you signed up early. The event has been featured in Vogue, Woman'sDay, Bustle, and Forbes.
This Day in Wine History
2016: The event is first launched in New York
September 4 and 5 of 2021: The event returned to New York for its fifth anniversary.
References
About. (n.d.). Retrieved from Pinknic: https://pinknic.com/about/
Kimball, S. (n.d.). A BRIEF HISTORY OF ROSÉ. Retrieved from Crush Wine XP: https://crushwinexp.com/a-brief-history-of-rose/
Mai, J. (2016, Jul 14). We joined thousands of New Yorkers at a lavish picnic dedicated to summer's most popular drink — here's what happened. Retrieved from Insider: https://www.businessinsider.com/pinknic-party-dedicated-to-rose-wine-2016-7
Share This Story, Choose Your Platform!